We provide our clients with the best possible advice and service
Hear from real people about the value our professional advice has brought to them.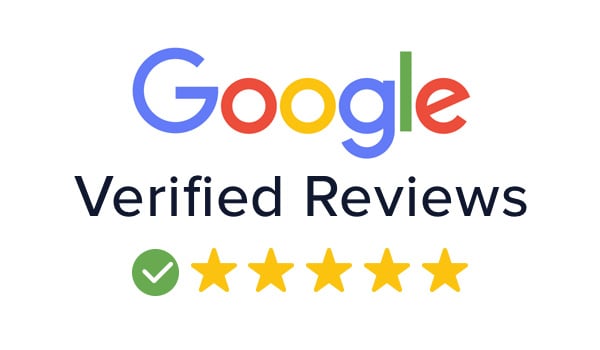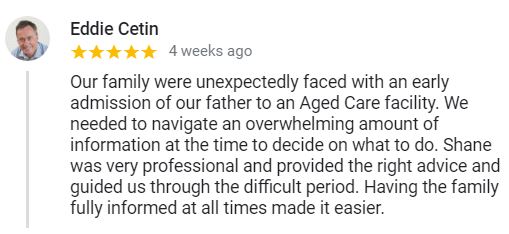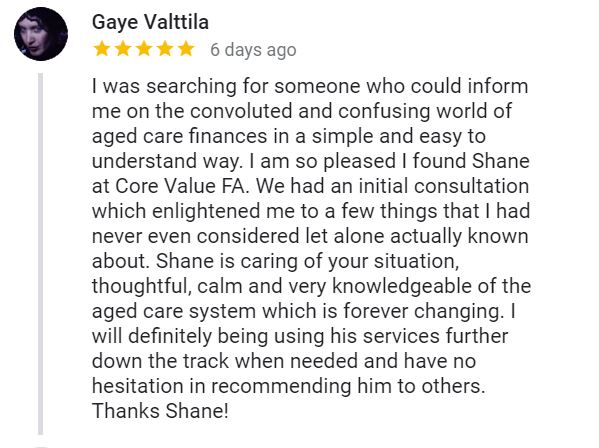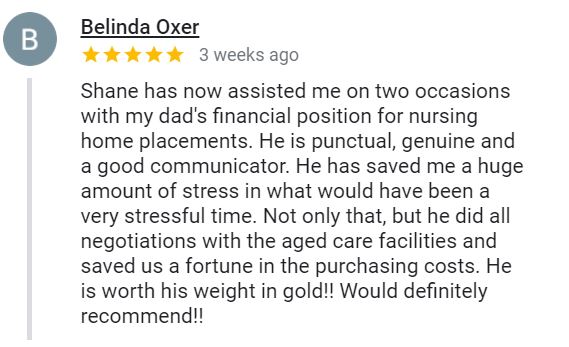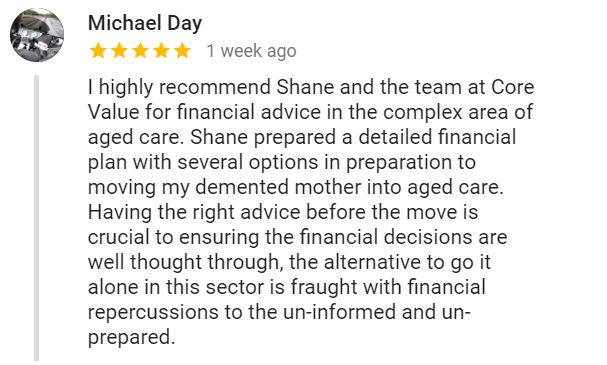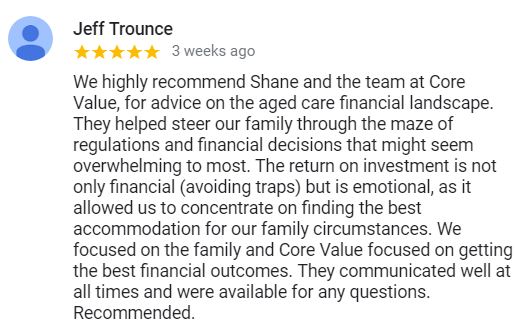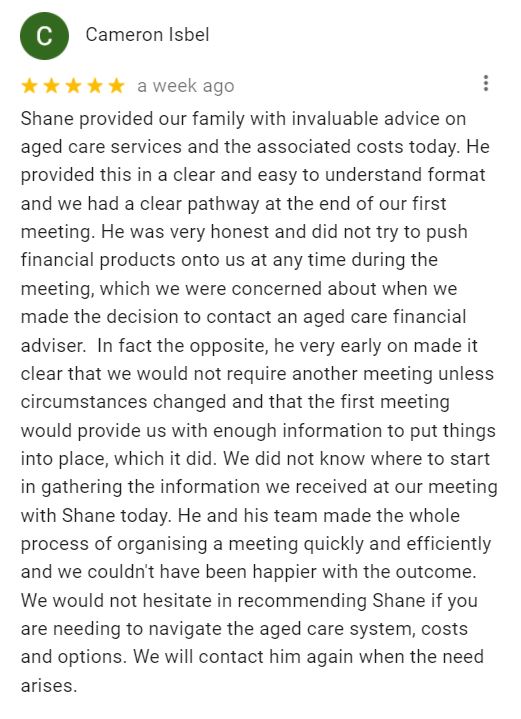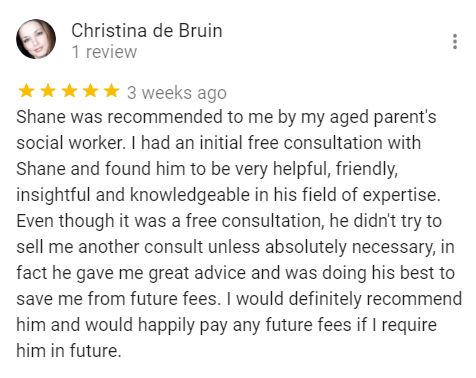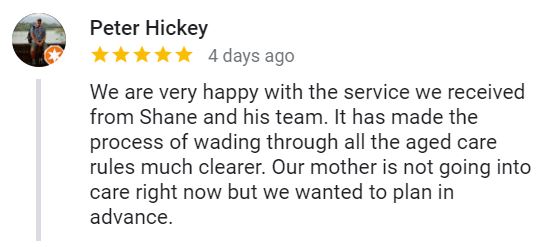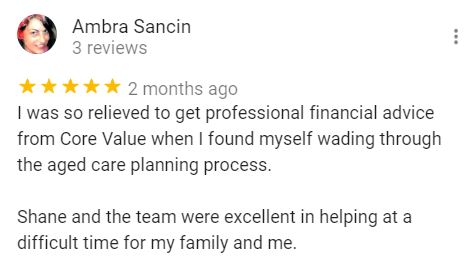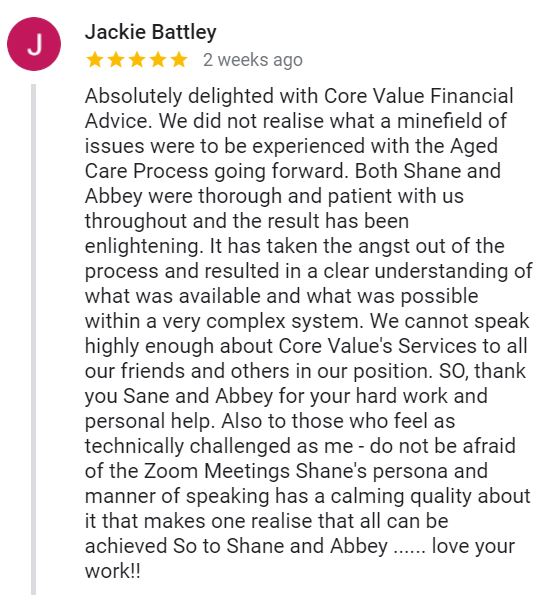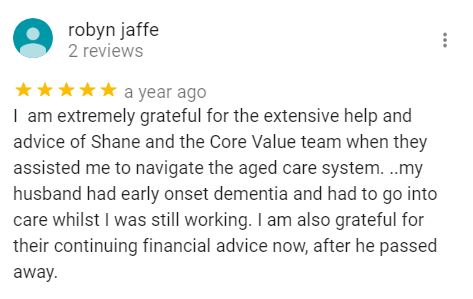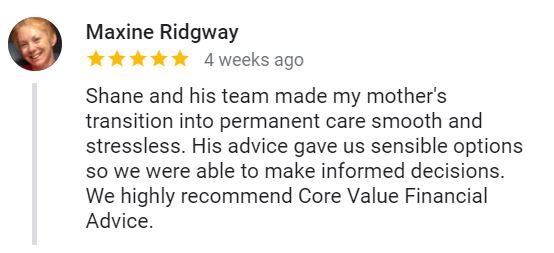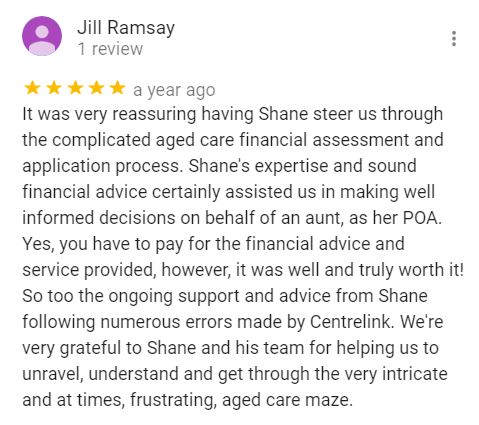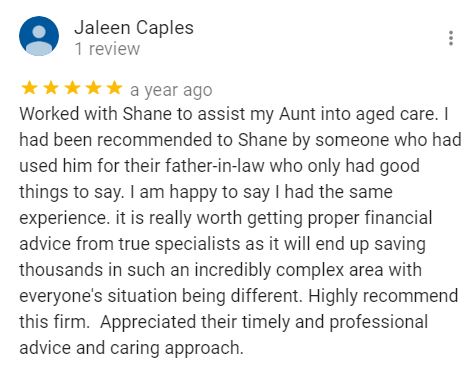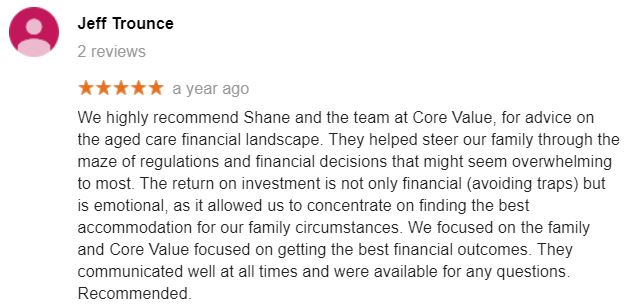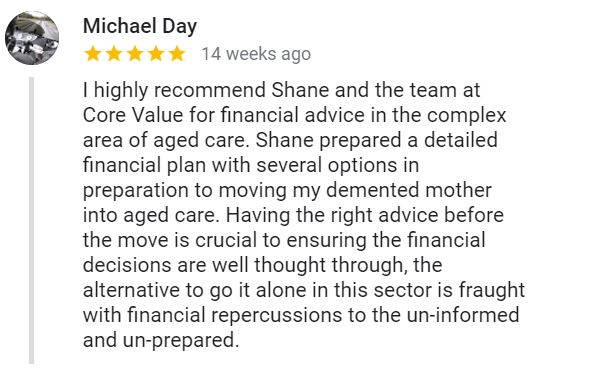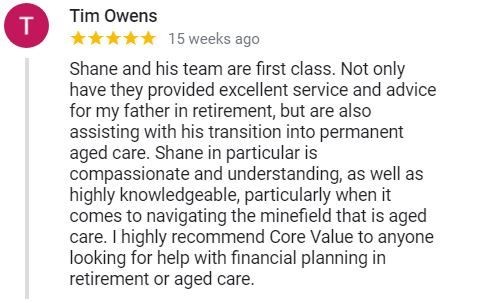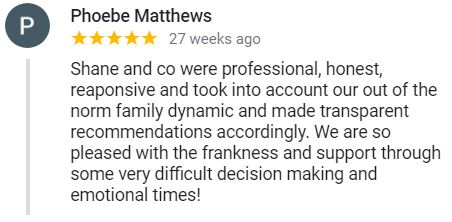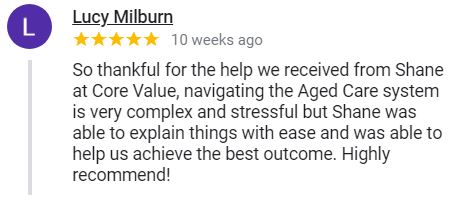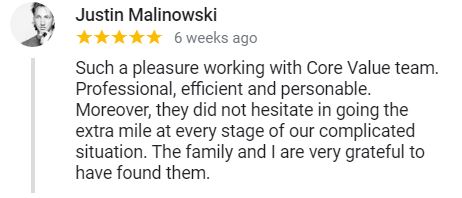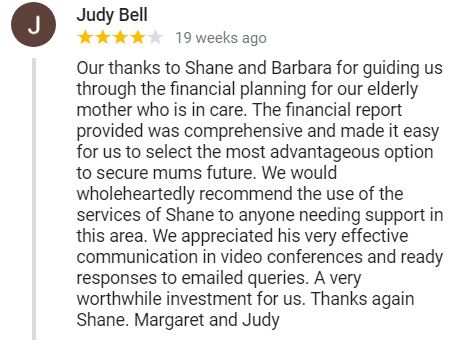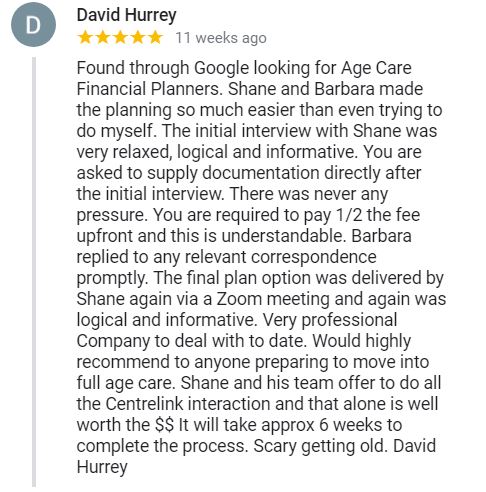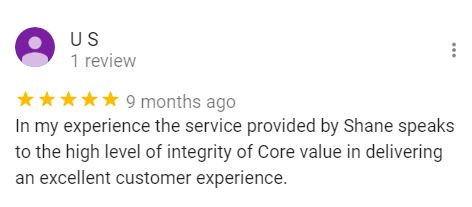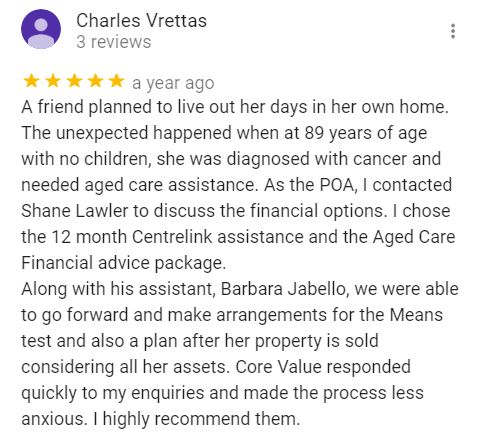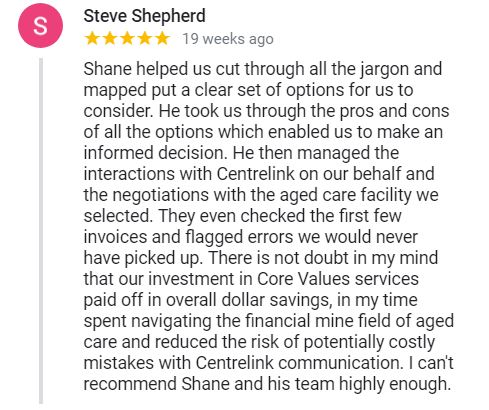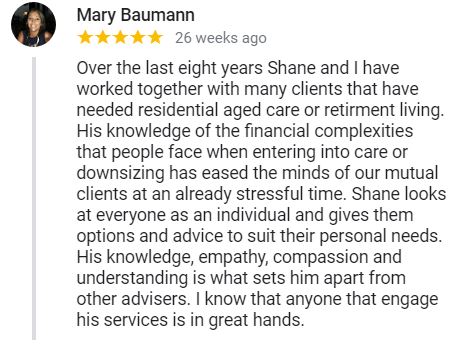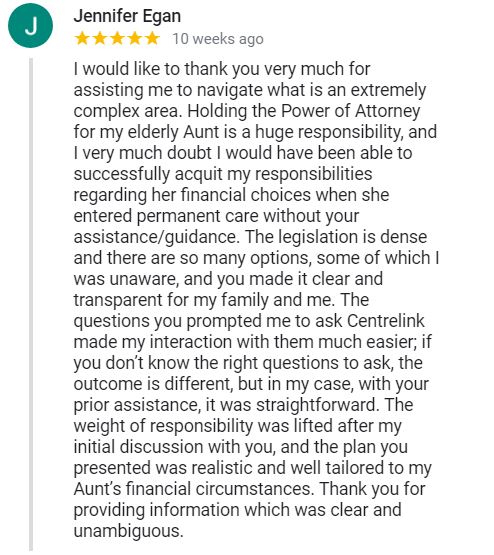 Speak to an Aged Care Expert
We will assess your unique situation and advise you on the options available to you.
Contact us for a consultation or please call 1300 944 011. 
Joe Lawrence

"Honest and professional"
Thanks so much for the advice regarding my mother in law and her residential care. It's not often that a professional will spend the time you did assessing her situation and then be honest enough to advise there was no value you could add in her particular situation.
The family is comforted to now be sure they are in the best possible position financially.
Kange Martino
"Comforting"
It was a very stressful 6mths for us but with the help of Shane ensuring us that our mother would be well looked after in the time she has with us was so comforting and so true, as the work is finalized now our mother is in good hands and well looked after.
I would highly recommend you to my friends who would be in this situation one day.
I have expressed how you do your work thoroughly and you have been in this business for many years and you know what you are talking about.
Linda and Robert Haagma

"Ethical and non-biased financial advice"

From the start, it became very clear that Shane had an in-depth knowledge of age care fee structures, and also a clear understanding of how stressful it is for relatives to make the right financial decision for their loved ones.
We found Shane to be friendly, courteous and above all, very professional in the advice he gave us.
We would not hesitate to recommend him to anyone seeking ethical and non-biased financial advice.
Maria Zammit

"Highly recommended"
Shane and his office staff were very friendly helpful and nothing was a bother.
My family had so many questions and concerns re choosing the right nursing home and re dads house money etc.
Shane was very knowledgeable patient and went above and beyond to help us. Shane always had dads best interest while doing his job. He treated us as people not a number.
Shane had 5 options for us. Shane is also doing all the confusing Centrelink paperwork for us too.
Highly recommended worth the fee to save u some headache of trying to understand all the rules and regulations of serveral parties involved when choosing nursing home care for your loved one.
David Ross

"we have no hesitation in recommending their services"
Your re-structuring of our retirement finances for aged care and expertise in dealing with government on our behalf has been so valuable financially.
Moreover, it has saved us hours of frustration preparing government aged care forms and other required documentation without guidance.
Core Value Financial Advice has provided us with excellent value and we have no hesitation in recommending their services to anyone who is considering seeking aged care financial advice.
Jo Howard
"I'd highly recommend Shane and Core Value"
Shane was fabulous to work with – he provided extensive information and a range of financial scenarios for us to explore in funding my parent's aged accommodation.
I'd highly recommend Shane and Core Value for patience, attention to details, friendly, open approach and excellent advice
David Rasmussen

"Took over the hard work"
With time pressure on us, with so much still to do, a fateful day occurred. On this very busy, but very fulfilling day, we acquired Power of Attorney, engaged Shane and his Financial Group who immediately took over our affairs.
Shane should be thanked very much for all the hard work he did in such a short time. A relief of great magnitude to us all.
Pat LeFevre
"Shane's calm management is invaluable"
Having to place my husband suddenly into residential care was extremely emotional and stressful, but the financial implications were totally confusing.
Shane's calm management of the situation, his explanation of the refundable accommodation deposit and the daily accommodation payment, completion of necessary Centrelink forms and advice on future financial management were invaluable.
Thank you Shane.
Barbara King
"Professional, cal, reassuring and confident"
From the first phone call I had with Shane I felt confident that I was in good hands. It is a highly emotive, stressful, confusing and complex issue for most people to deal with and as an only child with an ill mother I was under enormous time and financial constraints.
Shane was always professional, calm, reassuring and confident he could structure and negotiate a great outcome for my mother which he did.
Helen Webb
"Gentle caring manner, compassion"
Shane, I must say your gentle caring phone manner is so relaxing to the listener. You obviously have compassion when supporting families to make vital decisions to the welfare of their elderly.
Michael Divaris
"Absolutely helped"
You absolutely helped us in placing my parents into care and handled all the paperwork and procedures that we would not have been able to do from this distance. I would highly recommend your services.
Ambra Sancin
"Shane and the team were excellent"
I was so relieved to get professional financial advice from Core Value when I found myself wading through the
aged care planning process.
Shane and the team were excellent in helping at a difficult time for my family and me.
Denise A
"We could not be happier with the result"
Recently my family needed to secure residential care for a sick relative. Shane was exemplary in his advice and support during this time.
He ensured that our finances were taken care of and we could not be happier with the result.
Steve and Carolyn
"I couldn't have done it without them"
My aunt moved into Residential Care very suddenly and, honestly, without the advice and assistance from Core Value I would have been totally lost.
They provided options regarding aged care and advise in relation to steps forward to negotiate the aged care process. I couldn't have done it without them.
Nothing was ever a problem and I was treated with respect, something I really appreciated.
Diane Palmer
"Experienced, decisive, intelligent and personal warmth"
Of all the stress's of relocating mum into a nursing home the financial side wasn't one of them. Shane  is experienced, decisive, intelligent and has a personal warmth.
Not only did we a clear way forward we also got tax breaks and income we didn't know mum was entitled to.
Renee Mc
"Professional advice and support"
I would like to take this opportunity to thank you for your professional advice and support provided to my father. Your financial services made his decision to move into aged care less stressful and positive from a financial point of view.
By assisting us with negotiating the amount of bond, providing strategies to reduce the income test fee, determining Dad will have enough funds available to pay for aged care costs and projecting his savings will not run out, you have given him peace of mind and saved Dad from making many unwise decisions which could have cost him lots of money.
We can now go and enjoy life knowing that this move was the right decision financially, a move that also meets his changing living needs.
Rudy K
"No hesitation in recommending"
My 86 year old uncle, who was the sole carer of my aunty, had a stroke and as a result I was appointed their administrator for all financial matters.  As part of the (Queensland Civil Administration Tribunal) QCAT decision I was required to obtain expert financial advice to manage their affairs.
Core Value Financial Services were recommended to me and I engaged their services to provide a financial management plan.
I have nothing but praise for the professionalism displayed.  The numerous emails, phone calls and questions I had were answered promptly and in a language a lay person like me could understand. Core Value had a very detailed knowledge on all aspects of aged care and Centrelink rules and regulations and more importantly had an understanding of my uncle and auntie's circumstances and the extended family's requirements for their continued wellbeing and financial management.
Although the initial appointment of Core Value Services was completed I have extended their services to assist in providing further advice regarding ongoing aged care fees and reporting requirements to Centrelink and QCAT.
I would have no hesitation in recommending Core Financial Services to anyone requiring expert financial advice.
Mark Saunderson
"Knowledge and commitment"
I just wanted to convey my thanks and sincere appreciation for the support and advice you provide to the potential residents at Merrimac Park Private Care.
Many of the families I see are quite confused by all the options available in Aged Care and are really unsure what the best options is for them especially when it comes to investment planning and strategies.
Every person that has met you cannot speak more highly of your service, knowledge and commitment to finding the right solution.
Jennifer E
"The weight of responsibility was lifted"
I would like to thank you very much for assisting me to navigate what is an extremely complex area. Holding the Power of Attorney for my elderly Aunt is a huge responsibility, and I very much doubt I would have been able to successfully acquit my responsibilities regarding her financial choices when she entered permanent care without your assistance/guidance.
The legislation is dense and there are so many options, some of which I was unaware, and you made it clear and transparent for my family and me. The questions you prompted me to ask Centrelink made my interaction with them much easier; if you don't know the right questions to ask, the outcome is different, but in my case, with your prior assistance, it was straightforward.
The weight of responsibility was lifted after my initial discussion with you, and the plan you presented was realistic and well-tailored to my Aunt's financial circumstances. Thank you for providing information which was clear and unambiguous.