Nursing Home Advice: What You Need To Know
Seeking nursing home advice can be overwhelming. Where do you begin? Whom do you approach? What questions should you ask them?
You may be feeling very confused right now, so it's important to remember you don't have to do it all yourself. It's a much better idea to get professional advice on going into a nursing home facility instead of trying to go the Do-It-Yourself route.
This will make the transition process easier for your loved ones and for you.
Advice on Going into a Nursing Home
At first, when you begin the process of finding a nursing home for your parent, you will be bombarded with so much information.
Everyone wants to give you advice on what you should do. And if you try using the internet you are probably left more confused than you were to begin with.  
With all the overload in information, your best approach is to engage a nursing home expert.
That way, you won't have to figure out what information is correct or cost your loved one quality care due to lack of knowledge.
An aged care financial adviser is an expert in this and they will assess your unique and individual home care needs and advise you on the best plan of action.
6-Step Guide to Securing Aged Care
Transitioning into aged care can be a stressful time.
This step-by-step guide to securing aged care will hold your hand through the entire process. From determining affordability to advice on financial planning strategies; to finding a home and making sure all the boxes are ticked for Centrelink.
Feel confident in your aged care decisions. Get your copy today.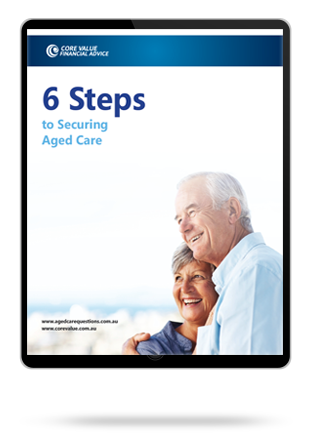 Why Get Professional Advice for Nursing Homes?
There are so many good reasons why you should get help from an expert who specialises in nursing home advice services. They can:
Help you do all the necessary paperwork

Help you submit important forms

Negotiate fees on your behalf

Get you the right nursing home facility

Maximise your payments

Minimise your costs
Among many more…
A nursing home expert will also help you plan out your parent's retirement, how to maximise Centrelink benefits, how to invest and how to cover the costs of nursing home care.
How to Vet Nursing Home Advice Services
There are many financial advisers offering their expertise on aged care. How do you choose the right one?
When you're scouting for a financial expert assess all potential advisers carefully. Find out how much experience they have in the aged care field.
A specialist in nursing home advice with the necessary licenses, credentials and a wealth of experience will be a good choice.
Organise an initial consultation from your chosen adviser. This gives you a chance to understand the adviser's expertise as well as get a feel for how well they "fit" your own circumstances.
This is also the perfect opportunity to ask lots of questions and let them know of all the concerns you have about aged care.
Where to Get Trusted Advice on Nursing Homes
At Core Value we specialise in providing aged care financial advice to clients across Australia.
Our experience in nursing home advice allows us to offer you the best financial advice to match  your unique needs for care. We leave you with a lighter financial burden and a well-cared for, parent.
Our expert financial advisers make it their business to take care of all your concerns about placing a loved one into a nursing home.
Looking for nursing home advice in Sydney?
You can find us at Level 33, Australia Square Building, 264 George Street, CBD
Looking for nursing home advice in Melbourne?
Visit our expert team at: Level 8, 350 Collins Street, CBD, or 1330 Ferntree Gully Road, Scoresby
Looking for nursing home advice on the Gold Coast?
We're at: Level 13, 50 Cavill Avenue, Surfers Paradise, QLD, 4217
Give us a call on 1300 944 011 to schedule a consultation with an expert financial adviser for aged care.
Want to Speak to a Nursing Home Consultant?
We can assess your unique situation and advise you on the options available to you.
Contact us for a consultation or please call 1300 944 011.