How a Nursing Home Financial Planner Can Help You
Finding it difficult to make important aged care financial decisions on your own? Get help from a nursing home financial planner.
The process of moving a loved one into a nursing home will always take a toll on most families. Having to plan everything on your own will understandably leave you stressed out.  
Don't let yourself get overwhelmed with all the nitty gritties of aged care when help is readily available.
Nursing home financial planning gets easier with the help of an experienced professional. They will ensure your family is in good hands throughout the process.
Why Do You Need A Nursing Home Financial Planner?
A financial planner who specialises in nursing home advice will handle all your finance and wealth concerns as you focus on giving your parent the best care possible.
Getting aged care financial advice before you make any important decisions will save you from making mistakes and paying unnecessary nursing home payments as a result of lack of information.
Trying to handle everything by yourself could in fact lead to a more expensive aged care experience for your family. Save yourself the trouble and start working with a financial expert today.
An expert nursing home financial planner will assess your financial situation and provide you with solutions to suit your personal needs.
With these strategies, you could save a significant amount of money and also be able to take advantage of any available benefits.
Wondering whether or not to sell the family home? Or should you take advantage of Centrelink payments to offset some of the nursing home fees involved? Let your financial planner handle that.
They will help you understand all the costs and fees involved in nursing home care and advise you on how to preserve the family's existing wealth.
6-Step Guide to Securing Aged Care
Transitioning into aged care can be a stressful time.
This step-by-step guide to securing aged care will hold your hand through the entire process. From determining affordability to advice on financial planning strategies; to finding a home and making sure all the boxes are ticked for Centrelink.
Feel confident in your aged care decisions. Get your copy today.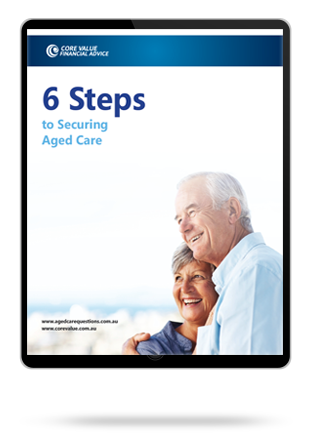 Where To Go For Nursing Home Financial Planning Help
At Core Value, we are specialised nursing home financial planners. We have proven experience in providing our clients with exactly what they need to ensure their loved ones receive the care they need while preserving their wealth as much as possible.
We focus on your unique individual needs to create custom financial planning strategies just for you. These strategies ensure that your family receives all the benefits available and help you save on unnecessary costs and fees.
On average, we improve our client's finances by $5,000 per year.
We've helped hundreds of people in Australia transition their loved ones into a nursing home with relative ease while saving them much needed dollars!
Looking for nursing home financial planners in Sydney?
You can find us at Level 40, Australia Square Building, 264 George Street, CBD
Looking for nursing home financial planners in Melbourne?
Visit our expert team at: Level 8, 350 Collins Street, CBD, or 1330 Ferntree Gully Road, Scoresby
Looking for nursing home financial planners on the Gold Coast?
We're at: Level 13, 50 Cavill Avenue, Surfers Paradise, QLD, 4217
Want to learn more about our nursing home financial planning services? Give us a call on 1300 944 011 to schedule a consultation with an expert financial adviser for aged care.
Want to Speak to an Aged Care Specialist?
We can assess your unique situation and advise you on the options available to you.
Contact us for a consultation or please call 1300 944 011.