Nursing Home Financial Advice: Everything You Need To Know
The road to moving a loved one to a nursing home is seldom straightforward. However, getting nursing home financial advice as early as possible will make the road less bumpy.
During this transition period, you will find yourself having to make many financial decisions. If you're doing it all by yourself, it can start to feel a bit like an overwhelming maze. Where do you even begin?
This is why most people opt to work with a nursing home financial adviser. By letting an expert handle the complicated aspects of home care, you can focus on making sure this a smooth transition for your parent.
By letting someone help you make these important financial decisions, you can devote your energy to ensuring your loved ones receive the care they need.
Why Do You Need Nursing Home Financial Services?
Nursing home costs and fees can get quite complicated,  but early planning and good advice can minimise the stress for you and your loved ones.
You have to deal with how to pay for accommodation costs while still making sure that your parent/s don't lose out on Centrelink pension payments.
A financial adviser will know exactly what to do and will give you all the Centrelink nursing home financial advice you need. They will assess your income, assets and other details of your financial situation to help you maximise Centrelink payments and reduce overall aged care costs.
With the right nursing home financial services you will be able to focus on the information and issues that are specific to your financial situation, which often saves you a lot of money and time.
6-Step Guide to Securing Aged Care
Transitioning into aged care can be a stressful time.
This step-by-step guide to securing aged care will hold your hand through the entire process. From determining affordability to advice on financial planning strategies; to finding a home and making sure all the boxes are ticked for Centrelink.
Feel confident in your aged care decisions. Get your copy today.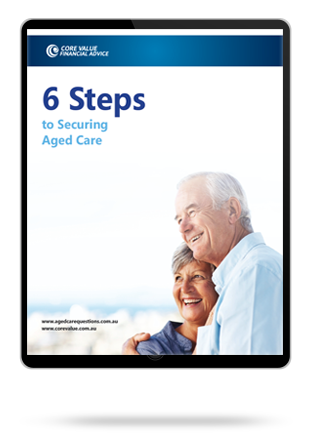 Working With an Expert Nursing Home Financial Advisor
Getting your loved one ready to enter a nursing home can be stressful for the entire family. You don't have to do it alone.
At Core Value, our financial advisers can structure a financial plan for you that will help reduce your nursing home costs and maximise your benefits.
Our financial advisers for nursing homes are highly experienced in providing aged care advice. We have served hundreds of families and would love to help you as well.  
We  will guide you through the entire process, and provide advice and support to ease the burden for you and your family.
So if you're worried about moving your loved one to a nursing home and don't know where to start –  let us guide you through your aged care journey with our financial solutions that deliver long-term benefits.
Interested in nursing home financial advice in Sydney?
You can find us at Level 40, Australia Square Building, 264 George Street, CBD
Interested in nursing home financial advice in Melbourne?
Visit our expert team at: Level 8, 350 Collins Street, CBD, or 1330 Ferntree Gully Road, Scoresby
Interested in nursing home financial advice on the Gold Coast?
We're at: Level 13, 50 Cavill Avenue, Surfers Paradise, QLD, 4217
Ready to find the best nursing home solutions for your family?
Give us a call on 1300 944 011 to speak to an expert nursing home financial adviser.
Want to Speak to a Nursing Home Specialist?
We can assess your unique situation and advise you on the options available to you.
Contact us for a consultation or please call 1300 944 011.