What Are Aged Care Bonds?
When your parent enters into an aged care facility, they may be asked to pay an aged care bond.
If you're wondering what aged care bonds are, and whether or not your family will need to pay this fee – continue reading as we help you understand it.
What Are Aged Care Bonds?
First off, what is the aged care bond?
Aged care bonds are also referred to as Accommodation Payment or Refundable Accommodation Deposit (RAD).
A bond for aged care is similar to paying a bond for apartment rental – the difference being that aged care bonds are usually much more.
The resident of the aged care facility is charged this refundable bond, by their chosen facility in addition to their other daily costs and fees of living there.
The full amount of the bond is returned to them or their estate when they leave the aged care home.
The amount you pay as the bond, will usually depend on the resident's income, assets and of course on the type of aged care facility you choose as well. Anyone with less than $48,500 in assets will usually not be asked to pay a bond.
There are three ways that you can choose to pay for aged care bonds;
Make a lump sum payment (full amount payable in 6 months).

Make regular payments every fortnight or month.

A combination of both lump sum and regular payments.
Choosing a payment method may be confusing and you want to choose one that won't affect your parent's pension or leave you with a heavy financial burden.
You may want to consult a financial adviser before you make this decision. They will help assess income and assets to make an estimate of what your bond fee will be.
They will also help you choose the payment method that is most well-suited to  you and your family.
6-Step Guide to Securing Aged Care
Transitioning into aged care can be a stressful time.
This step-by-step guide to securing aged care will hold your hand through the entire process. From determining affordability to advice on financial planning strategies; to finding a home and making sure all the boxes are ticked for Centrelink.
Feel confident in your aged care decisions. Get your copy today.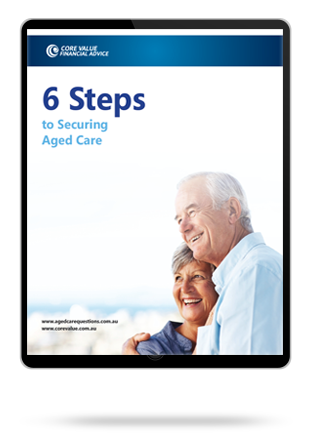 What Is The Bond Used For?
An aged care residential facility is required by law to invest the aged care bonds in approved investments. They then use all the income earned from the bond to improve their accommodation and services.
Do You Need To Sell Your Home To Pay The Bond?
Often, people will sell their homes to pay for the aged care bond in full, although this entirely depends on each family's individual financial situation.
Whether or not to sell the family home is an important decision that comes with huge financial implications.  
An expert aged care adviser can help to assess your financial situation and advise on what needs to be done to pay the bond while making sure that your wealth is preserved.
Do You Need To Sell Your Home To Pay The Bond?
There's no doubt that aged care bonds are a confusing issue. To help make the process less daunting for you and your loved ones, don't hesitate to seek an expert's advice.
An aged care adviser can not only help you understand the fees and costs involved in paying for aged care accommodation, they will ensure that you only pay what you need to pay and nothing more.
At Core Value, our one number one goal is to take the stress out of your aged care financial decisions because we realise that there's no greater treasure than peace of mind when you're faced with a difficult decision.
Using our expert strategies we'll help you minimise your bond fees, show you how to maximise Centrelink benefits, and protect your family's overall estate.
Don't carry the burden of making aged care financial decisions all on your own.
Give us a call on 1300 944 011 to schedule a consultation with an expert financial adviser to help you through the process.
Want to Speak to an Aged Care Expert?
We can assess your unique situation and advise you on the options available to you.
Contact us for a consultation or please call 1300 944 011.