When it comes to aged care there are 2 different types of aged care assessments:
The health aged care assessment test. And;
The asset and income aged care assessment.
For the purpose of this article, we will be discussing the health aged care assessment test.
If you need information on the asset and income aged care assessment which focuses on the financial issues of the person going to care, please click this link to read more.
What Is an Aged Care Assessment?
The health aged care assessment is commonly referred to as:
Aged Care Assessment Team or ACAT (all states except Victoria). Or;
Aged Care Assessment Services or ACAS (Victoria).
What Does ACAT/ACAS Do?
The Aged Care Assessment Team (ACAT) or the Aged Care Assessment Services (ACAS) make recommendations and assess people for eligibility to access higher-level health services.
These services include:
Commonwealth-funded residential aged care.
Home Care Packages or services.
Residential respite care.
Short-term care options.
How Does an Aged Care Assessment Work?
An ACAT/ACAS assessment will make a recommendation for the type and level of care that best meets your requirements. You can enter aged care without an ACAT/ACAS assessment however, you will need to pay as a private patient and not be granted any government subsidies. It will be more expensive.
The assessment looks at many factors including:
Your medical history.
Your social needs.
Any specific needs example religious or cultural.
Physical requirements. For example, are you able to perform everyday activities?
Does an ACAT/ACAS Assessment Determine the Cost of Care?
The ACAT/ACAS assessment does not determine the cost of your care. The assessment is to determine your care needs. The asset and income assessment partly determines the cost of aged care. This is a separate topic.
What Is The Aged Care Assessment Process?
1. Apply for an Aged Care Assessment
First, you need to check your eligibility.
You may be eligible if you are:
65 years or older (50 years or older for Aboriginal or Torres Strait Islander people).
Noticed a change in what you can do or remember.
Been diagnosed with a medical condition or reduced mobility.
Experienced a change in family care arrangements.
Experienced a recent fall or hospital admission.
Cannot perform common daily activities such as preparing a meal, shopping, taking a bath, etc.
To find out if you are eligible for a face-to-face assessment, the first step is to check if you meet the requirements for an assessment. You can click this link to find out.
If you are eligible you can then apply for an assessment.
2. Arrange an Assessment
To arrange an assessment, use the My Aged Care's online assessment to fill out your details and information. This will take approximately 15–20 minutes to complete.
If you have previously registered with My Aged Care, call My Aged Care directly on 1800 200 422 to arrange an assessment.
If you need immediate care due to unforeseen circumstances, call the My Aged Care contact center on 1800 200 422 rather than apply for an assessment online.
How Much Does the Assessment Cost?
The assessment is free of charge.
During your assessment, the following will be discussed:
Your health, lifestyle, and general wellbeing.
Things you can do well and tasks you need help with.
Support you receive, such as care provided by friends or family.
Copies of any referrals from your doctor.
Your assessor will work with you to develop a support plan, including:
The types of services that can meet your needs. And;
Service providers in your area.
Who Does the Assessment?
The assessment is undertaken by a team, usually a nurse, in addition to a healthcare worker such as an occupational therapist, physiotherapist, or social worker. However, only one member of the team will visit you for your face-to-face appointment.
How long will it take to get an assessment?
It can take up to 6 weeks, depending on the urgency.
How long does an assessment take?
The assessment usually takes between 45 minutes and 90 minutes.
How long will it take to get the assessment report?
It may take up to 2 weeks to get a report. This is required when seeking out nursing home and aged care options.
What will the report say?
The report lists the services you have been approved for including the reasons behind these decisions.
What if I disagree with the assessment?
If you are not satisfied with the assessment, you can lodge a complaint through My Aged Care.
3. Get Your Assessment Outcome (H3)
Once the assessment has been complete you will receive a letter detailing the following:
The government-funded aged care services you have been approved for.
Your support plan. And;
Your unique referral code/s.
Everyone's situation and care needs are different. You will be assigned a home care package based on your needs.
Home Care Packages (HCP)
| | | |
| --- | --- | --- |
| Package type | Level of care needs | Approximate wait times |
| Level 1 | Basic | 3-6 Months |
| Level 2 | Low | 12+ Months |
| Level 2 | Intermediate | 12+ Months |
| Level 2 | High | 12+ Months |
Once you have been assigned a Home Care Package you have 56 days to choose a service provider.
4. Arrange an Asset and Income Assessment
After the health aged care assessment test, you will need to arrange an asset and income assessment.
The asset and income assessment calculates how much you can afford to contribute towards the cost of your aged care services.
This can be lodged with either:
It can take up to 6 weeks to receive your assessment outcome.
If you need any advice regarding aged care, please feel free to chat with one of our expert team members on 1300 944 011.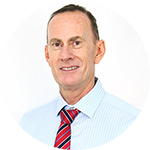 Hi, I hope you found this article useful.
If you wish to discuss your situation and what strategies may be of benefit please contact us here 
Thanks - Shane